News Center
iPinYou AlphaData™(CDP) :Whole Domain and Intelligent,Optimize User Experience And Growth
2021.10.11
As the first manufacturer to implement CDP in China, iPinYou AlphaData™ has helped international large retail manufacturers, luxury jewelry brands, high-end sports brands, cosmetics brands, automobile brands and other benchmark customers to complete the construction of CDP.

Recently, AlphaData™ has been updated to the event analysis, 360 portrait, AI engine and other products(functions).It is more in-depth and flexible in user predictive analysis, insights and smart operations.
"After using CDP, we can see a significant increase in the number of effective leads which is estimated to reach 50%, and the cost of acquiring a single lead has decreased by 20% in a year."An international auto enterpris marketing director said.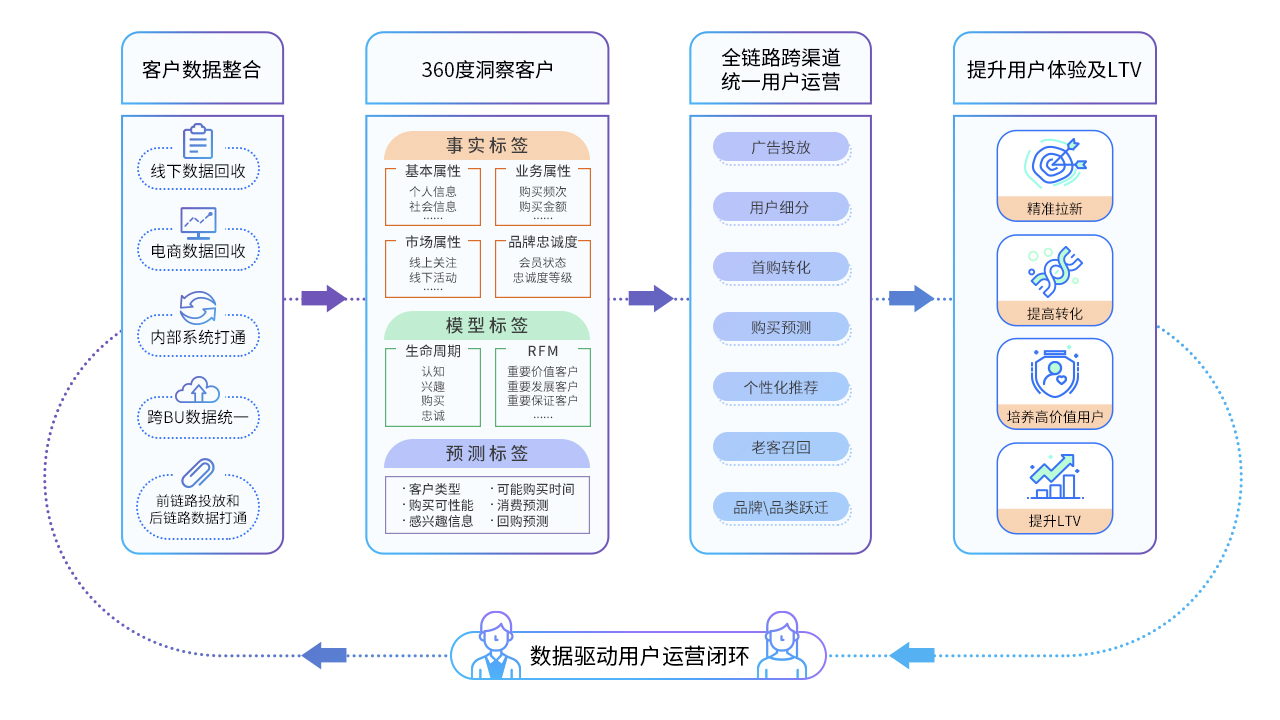 Whole Domain: A real-time, transparent and reliable one-stop intelligent data management platform
The user-centric AlphaData™ can help companies by building a complete closed-loop that starts from the source of data and covers everything from data collection to data cleansing, data onboarding and the establishment of a labeling system, to user segmentation and management, and all the way to data activation and data re-collection after utilization.
In particular, AlphaData™ can seamlessly connect CDP with its own DMP and ADserving products, and connect CDP data with alibaba, JINGdong and other three-party platforms,so as to improve the accuracy of reaching and the efficiency of acquiring customers.
This is one of the important competitive advantages of iPinYou AlphaData™. Currently, most CDP vendors in the market do not have DMP or ADserving products, and iPinYou is the only one with all three capabilities. In this way, the difficulty of getting through between systems can be reduced, and data can be consistent and recycled in real time to ensure quick insight into users and timely adjustment of operational strategies.
Let AI capabilities flow freely in the CDP like water

One of the core capabilities of iPinYou AlphaData™ is the built-in powerful Holmes AI algorithm platform, which makes AI capabilities like water so that business personnel can call at will, such as selection of recommendations for high re-purchase groups, MA time optimization and soon.
"Machine learning ability is the future of marketing technology, iPinYou product strategy has always put decision intelligent algorithm in the core position to create the core competitiveness of products," iPinYou CTO Ouyang Chen said.
There are very few CDP with AI capability, and even fewer of them have better understanding of business. In the past 13 years,iPinYou has not only accumulated deep algorithms and technologies, but more importantly, accumulated profound industry knowledge, especially in the core ability of feature processing which affects the effect of AI marketing.
Taking the activation of sales leads in the automobile industry as an example, the common model will select the population index of "seen the car in the past 6 months" for feature processing.While the industry prefabricated model of iPinyYou will use the crowd indicator of "not seen in the past 30-60 days, but seen intensively in the last 30 days" due to the accumulation of past experience and achievement, such changes can greatly improve the effect of the model.
Depending on the tag prediction, preference prediction and MA contact time model prediction provided by Holmes AI, a number of customers have realized the improvement of specific revenue indicators and sales by means of high-potential member mining and personalized recommendation.
Help major customers with multiple contacts and BU to achieve economic growth

Due to the above strong product capabilities and industry experience, iPinYou AlphaData™ is especially suitable for group customers with multiple online and offline contacts, different business units, and multiple sub-brands targeted at different groups and positioning.
iPinYou has served a domestic automobile manufacturer which has a revenue of hundreds of billions and more than 10,000 employees. However its business data, consumption data and member data are separated from each other, and customer data is scattered in different systems.
By combing hundreds of data tables and fields for modeling, using multiple rules such as data cleaning , data standardization and ID mapping to ensure that customer data can establish true and accurate association, iPinYou AlphaData™ achieves the unification of customer ID and helps the enterprise build the real first CDP system in the industry.
With accurate, clean and consistent data, AlphaData™ helped the company generate significant business benefits in subsequent applications. According to the Overall Economic Impact Study written by Forrester Consulting, the auto enterprise achieved quantified benefits such as "the acquisition cost of a single sales lead decreased by 20% and the acquisition cost of a sales lead decreased by 120 million yuan" after using iPinYou data management platform. It also realizes the non-quantified benefits such as opening up the whole link data, improving the decision-making efficiency and bringing the change of marketing thinking by marketing refinement.